DAR Sport Course Info
DAR Sport takes a spectacular route around the western point of the Dingle Peninsula and Ireland. DAR Sport, 08.30 Start; Total Distance 43km with 800m total ascent. Competitors will start on their bikes at Dingle Marina. It will be a rolling start for the first 1km cycle before cycling (21km) around Slea Head> hike or run (7.5km) Mt Eagle and cycle (11.5km) back to Dingle via Ventry, rack bikes at transition at Milltown before (0.7km) run to kayak. Kayak 1km in double sit-on-tops before final run 1km to Finish line in Dingle Marina.
Route description
1. Cycle: Dingle to Mt Eagle via Slea head. Distance 21km / 13 mls Height Gain 310m Height Loss 140m
2. Hike / Mountain Run. Mt Eagle. Distance 7.5km / 4.5mls Height Gain 390m Height Loss 390m
All of Mountain Hike Run is on rough trails.
3. Cycle: Mt Eagle to Dingle via Ventry. Distance 11.5km / 7 mls Height Gain 100m Height Loss 270m
All of cycle is on surfaced roads.
4. Run to Kayak. Rack bike at transition at Milltown, Run .7km to kayak and kayak 1km. Distance 1.7km / 1 mls Height Loss or Gain 0
5 Run 1km to finish at Dingle Marina. Distance 1km / 0.6 mls Height Loss or Gain 0
DAR Sport Total Distance 43km / 27 mls Height Gain 800m / 2,640ft Height Loss 800m / 2,640ft
DAR Sport Route Map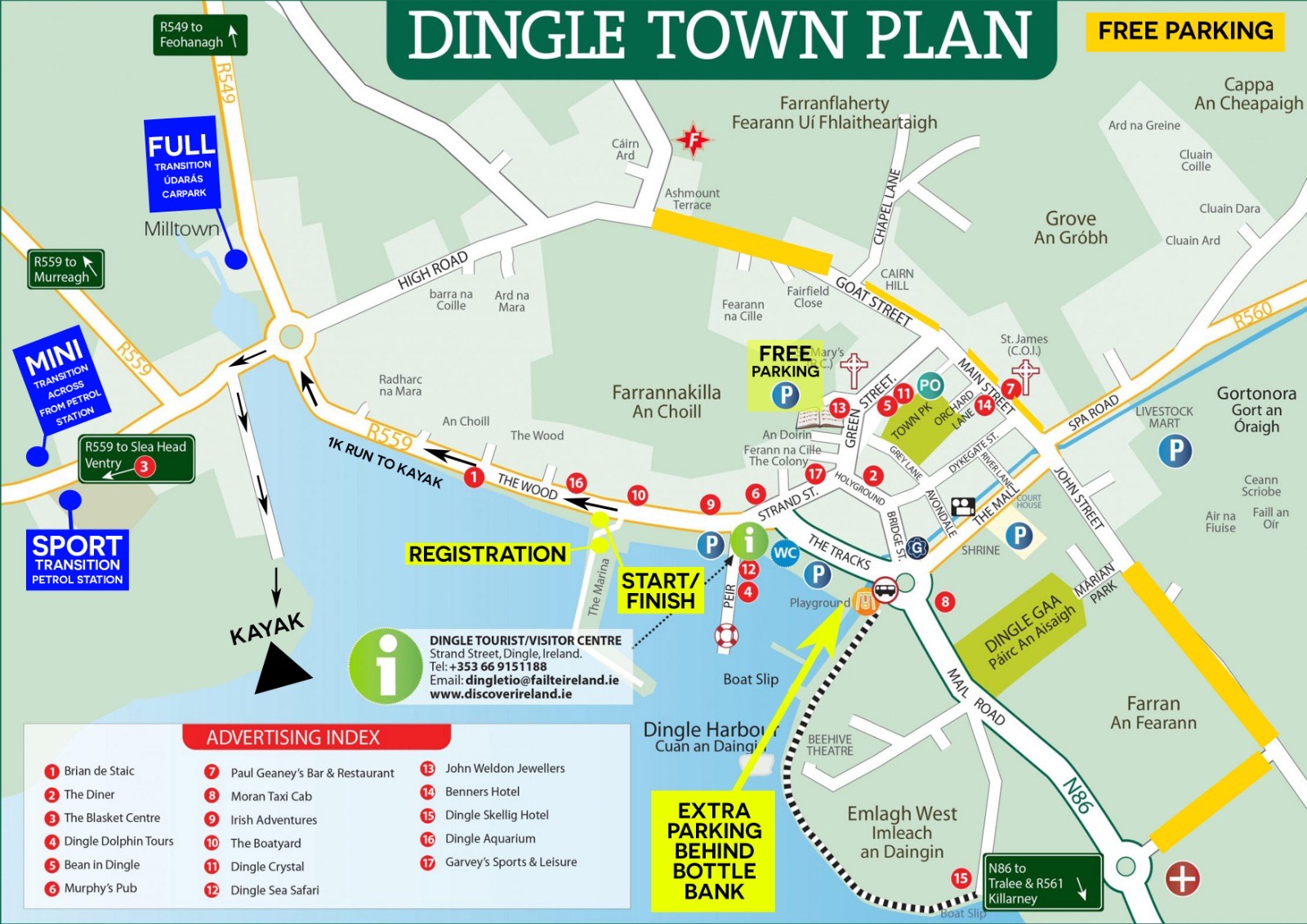 ---
Gallery